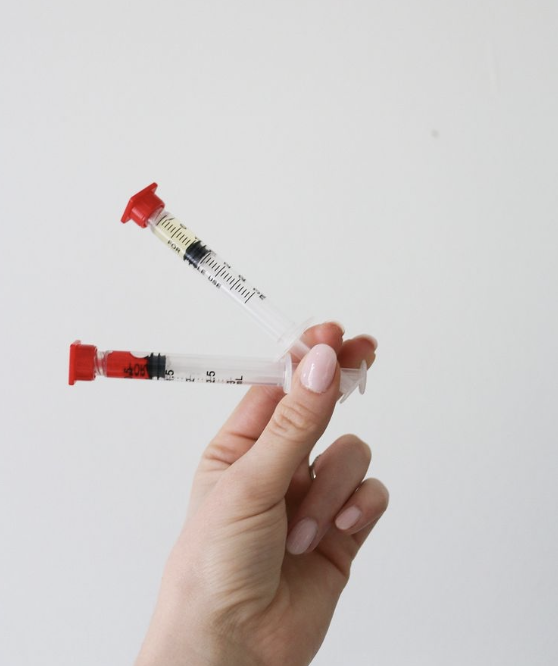 click a service to book
Boosters
Standard B12 Injection. Good for energy and a little extra oomph.
Good For:

A powerful mix of lipotropic agents including MIC complex, B vitamins and amino acids. Helps boost metabolism and make energy use more efficient. Great at helping brides fit into that dress and carving out beach bods. Works for men and women.
Good For:

Just like our Skinny Shots but discounted 25%. Due to new restrictions packs are currently only available for self administration. In order to say thanks for doing these yourself we are now including one extra shot. Helping you get your 6 pack with our 6 pack.
Who wants a 6 pack when you can have a 12 pack. Actually we want a 6 pack too but a 12 pack of skinny shots will help you meet your weight loss goals.
Super B complex injection. More b's than a honey farmer. Puts some pep in your step.
Toradol is a nonsteroidal, anti-inflammatory drug (NSAID) that works by blocking pain and inflammation. This can help decrease swelling, pain, or fever. It's like ibuprofen only better, faster, stronger!
Good For:

1 Gm of vitamin C to help with immune support and to keep your skin looking great.
Good For:

We want to help
IV Hydration & nutrient Replenishment
We want to be part of the solution to hydrate America. Or at least Texas. But Texas is pretty big, so, you know… we started this company because we believe we can provide an efficient solution and help people feel awesome. And who doesn't like to feel awesome?!
Our focus is on your convenience. Our team of medical professionals provides one-on-one consultations and appointments at a location of your choice where we deliver intravenous (IV) fluids, vitamins, minerals, and anti-oxidants based on physician-established protocols.
Through a vigorous vetting process, we have done the work on finding the best available products so you don't have to. We provide individually tailored wellness and anti-aging regimens as well as vitamin and hydration protocols to help you achieve and maintain peak performance.
Contact us to schedule an appointment
at a convenient location of your choice.